La Gente Productionz is an international production company that collaborates with musicians, visual artists, chefs, event promoters, activists and local venues to bring great art and performance to the community. 
M.A.P.P. 
Mission Arts Performance Project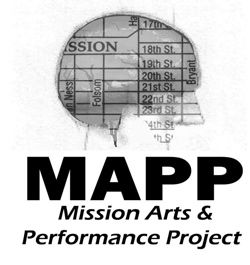 MAPP is a community arts event that takes place in the Mission the first
Saturday every two months for the last 13 years. MAPP is always free.
Mapp will be encompassing over 14 venues as well as public spaces,
streetcorners, bart stations, cafes, bars, taquerias, homes all over
La Mission. The event features taking common spaces and for
one orchestrated beautifully chaotic evening, transforming them
into whatever we want including free live music, Spoken word,
Performance art, Film screenings, BBQ's, garage sales, 
unorthodox conversations and happenings.
La Gente Productionz Presents:
ARTE Y TAPAS Performance Series

ARTE Y TAPAS is the unique SF-based Performance Series that
showcases top Bay Area and International musicians, dancers,
poets, MC's, visual artists and chefs.ARTE Y TAPAS has included
performance artists Whitney Myer, La Gente,
Classical Revolution, Trio Garufa, Jordan & The Ritual, The Kilbanes,
Jillian Picazo, Monica Fimbrez, Michelle Navarrete and Sariyah Idan just
to name a few! It has also brought to the stage Les Trois Coups from
Lille, France as well as emerging and established Bay Area actors,
spoken word poets, singer-songwriters and MC's with back-to-back
sold out shows at CELLspace, the Red Poppy Art House,
Galería de la Raza and Neck of the Woods!
-ARTE Y TAPAS WEBSITE-
-FACEBOOK PAGE-
-TWITTER-